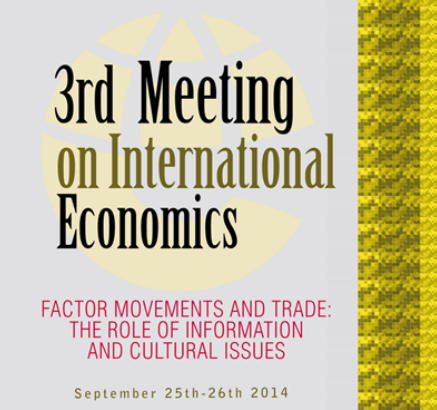 The Universitat Jaume I, through the Institute for International Economics (IEI), organises and hosts the twelfth edition of the Arnoldshain Seminar (AS), entitled Globalization, Development and Human Capital. The Role of Networking and Information.
This event, which also supported by the town council of Vila-real, the University of Valencia and the Valencian Regional Government, will take place in two locations: in Valencia, on 23 and 24 September; and in Vila-real, on 25 and 26 September 2014.
It is the first time that the Arnoldshain Seminar is holded in Spain, thanks to the work of the Institute of International Economics at the Universitat Jaume I and the University of Valencia. This seminar is an opportunity for encounters between European and Latin American researchers to address international issues in the area of economic relations. This issue deals with the relevance of networks and information in the process of economic globalization and development.
ARNOLD: poster, programme, papers, pictures